Beskrivning
Upgrade your sleep. Upgrade your life.
This memory foam cushion provides comfortable support for the head, neck and shoulders for
uninterrupted night-long sleep!
Sleep better , much, much better
End frustrating sleepless nights
Make your energy soar

Whether you're suffering from neck pain or just looking for a comfortable pillow at an affordable price – the memory foam pillow from ORTOREX is the right choice for you!
With a strategic ergonomic design that helps support and provide comfort to your head, neck and shoulders, this pillow is specially made to help you slip into an uninterrupted slumber every night.
Thanks to the memory foam, the pillow does not lose its shape!
You can count on it to provide support for hours after hours — all at a time when scientists better than ever understand how important it is to get a good night's sleep. In fact, if you
DON'T
sleep well, it can lead to a host of health problems, including:
Fatigue during the day
Irritability
Increased risk of having an accident
Lower sex drive
Depression
Premature aging of the skin
Forgetfulness
Weight gain
Plus an increased risk of suffering: heart disease, heart attack, heart failure, irregular heart rhythm, high blood pressure, stroke and diabetes!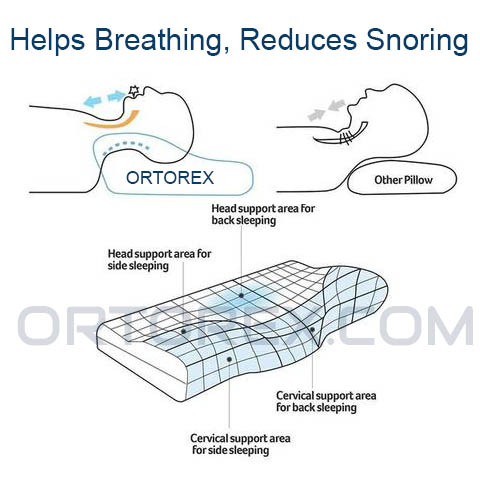 Se till att du får bästa möjliga vila med Memory Foam Pillow från ORTOREX!
Den här kudden placerar ditt huvud i en naturlig sömnposition, har fördjupningar som gör att du enkelt kan lägga armen under kudden och stöder ryggpartiet mellan skulderbladen.
Föreställ dig att du går igenom en dag med gränslös energi i stället för att känna dig utmattad … Föreställ dig att du har ett mycket skarpare mentalt fokus på grund av att du är mer utvilad … Föreställ dig att du kan somna så fort ditt huvud träffar denna bekväma kudde …
Gör din beställning nu …
Se till att du börjar vakna upp och känna dig
Fullt utvilad och uppfriskad!
(Och fri från nacksmärta)
30 nattliga provperioder
Du har 30 nätter på dig att bli förälskad i din Ortorex-kudde. Du älskar den inte? Kontakta oss så ordnar vi en fullständig återbetalning.
Ortorex Memory Foam Pillow frågor
Vad är Ortorex Memory Foam Pillow tillverkad av?
Fyllningen i kudden är ett viskoelastiskt polyuretanskum, även känt som memory foam.
Ja, minnesskum är säkert. EPA har förklarat att skumgummi är giftfritt och flera studier har visat att skumgummi inte orsakar några hälsoproblem. Till skillnad från många andra material är minnesskum hypoallergeniskt och fritt från sängbaggar.
Ska jag använda ett extra örngott över min Ortorex Memory Foam-kudde?
Det är inte nödvändigt. Men om du vill anpassa din kudde med ett annat örngott är det helt upp till dig.
Hur tvättar jag min Ortorex Memory Foam-kudde?
Ytterhöljet kan tvättas i maskin och torkas i torkskåp. Kärnan kan endast rengöras på plats. Efter tvätten ska du lägga den platt för att torka.
Hur lång tid tar frakten?
Det tar vanligtvis 1 arbetsdag att behandla din beställning och cirka 7 arbetsdagar att nå fram till din destination.
* Observera att leveranserna påverkas i vissa länder på grund av Coronavirus. Vi behandlar och skickar beställningar på vanligt sätt, men ditt lokala postkontor kan drabbas av små förseningar på grund av situationen. Oroa dig inte, vi tillhandahåller spårningsnumret för varje beställning.